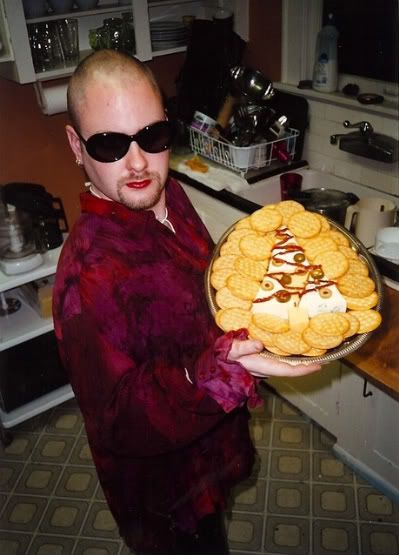 During my 2008 Christmas Midday Show on
KEXP 90.3 FM
, I made a crack about how "even Goths like Christmas," apropos of playing Siouxsie's "Il Est Ne, Le Divin Enfant" followed by Schoolyard Heroes' "I Want Your Soul For Christmas." Only days later did I remember there was a time, back in the late '90s, when we actually celebrated Goth Christmas at the house on Meridian Ave (see above). Oh dear.
Clearly, I had absorbed more than a few fashion ideas from
Dean Johnson
during my years in New York. And lord knows what Martha Stewart would make of my Christmas tree of cheeses.
And in case you missed it during the season, here's
"I Want Your Soul for Christmas."