Last year, I urged readers to check out the excellent
Advent calendar of Christmas films
by
Alonso Duralde
, one of my two favorite film critics. Since then, Alonso has secured a book deal on this subject.
Have Yourself a Movie Little Christmas
is scheduled for publication by Limelight Editions in Fall 2010. In the spirit of the season, he was kind enough to give
Festive!
a peek at one of the many, many entries.
Santa Claus
(1959)
Unrated; 94 min.
Written by Adolfo Torres Portillo and René Cardona
Directed by René Cardona
Starring José Elías Moreno, José Luis "Trotsky" Aguirre, Lupita Quezadas, Armando Arriola
(DVD: Westlake Entertainment Group)
As Christmas Day approaches, Santa Claus (Moreno) prepares to brings toys to all the good children of the world with the assistance of his staff of magical helpers. Satan hopes to destroy Santa Claus and sends the demon Pitch (Aguirre) to Earth to create havoc on Christmas Eve. Pitch focuses on three mean little boys, encouraging them to make mischief, and he also tries to convince poor young Lupita (Quezadas) to steal a doll rather than believe that Santa will bring her one. Santa makes a little rich boy's wishes come true by sending the child's parents home to spend more time with him—it involves a "cocktail of remembrance," long story—but Pitch sabotages Santa's magic sleep powder and the flower that allows him to become invisible. Can Merlin (Arriola) save the day before the sun rises on December 25?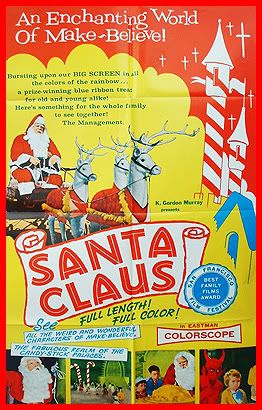 ¡Ay, ay, ay!
Leave it to the director of
Wrestling Women vs. the Aztec Mummy
to come up with a children's entertainment this mind-bogglingly bizarre. Santa and Merlin teaming up to battle the devil is just one of
Santa Claus
' truly weird qualities—Lupita's nightmare about giant dancing dolls is the kind of movie moment that scars children for a lifetime—making for one wacky holiday film. Kids who grew up in the southwest in the 1960s and '70s were subjected to this low-budget production at annual kiddie matinees every December, but Santa Claus became a more widely-known cult favorite after it got the skewering it so richly deserved on the cable series
Mystery Science Theater 3000
. After your first exposure to
Santa Claus
, you'll find yourself going back to it every Christmas, still not quite believing your eyes.
Fun facts:
*
Santa Claus
was released in the United States by K. Gordon Murray, the infamous "King of the Kiddie Matinee," who would cheaply acquire rights to European and Mexican fairy-tale movies, dub them into English and repackage them for American audiences. Murray also narrates the English-language version of
Santa Claus
under the name "Ken Smith."
* Somehow,
Santa Claus
won the Golden Gate Award for the Best Family Film at the 1959 San Francisco International Film Festival.
* In a way,
Santa Claus
is, in many Spanish-speaking countries, the equivalent of
It's a Wonderful Life
, in that when the film's copyright went into the public domain, TV stations aired it over and over again at Christmastime, thus making it a cherished holiday tradition in many nations.
* After the film was shown on
Mystery Science Theater 3000
, "Pitch" (as played by Paul Chaplin) became a recurring character on the show.