There is a
great editorial
about Christmas music ("Whose Christmas Is It?") by Michael Feinstein in today's
New York Times
. Although I'm not a fan of his performance style, I'm a fan of Feinstein the archivist. On more than one occasion during my four-year tenure at the
Rodgers & Hammerstein Organization
, an inquiry from Michael sent me digging through the archives of Irving Berlin Music to excavate songs nobody else had ever heard of. So it brought a smile to my face to see Michael give a shout out to another "lost" song from my R&H past in the
Times
:
Richard Rodgers and Harold Arlen mainly created songs for musical plays and films, and unless a story line required a holiday song they had no need to write one. When they did try one outside the framework of a show, it rarely had the same spark. Rodgers and Hammerstein's "Happy Christmas, Little Friend," recorded by Rosemary Clooney in the '50s, is sadly lethargic. Even Clooney couldn't recall it when asked to sing it 30 years later. Or so she claimed.
Here's a snap of Miss Clooney singing that tune on a 1953 TV special. She doesn't look especially engaged, does she?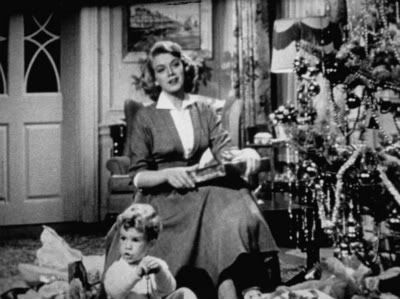 When we included the song in the
Rodgers & Hammerstein Rediscovered
folio, by old boss Ted Chapin had this (and nothing else) to say about it:
HAPPY CHRISTMAS, LITTLE FRIEND

- 1952 - The only bona fide Christmas song Rodgers and Hammerstein ever wrote. It first appeared as a pull-out in the December 1952 issue of LIFE Magazine. The following year it became the official Christmas Seal song.