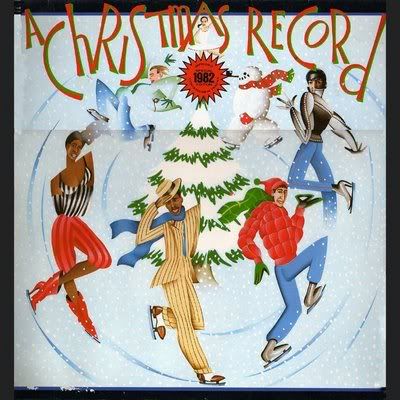 Were some crazed maniac to ever put a gun to my head and demand to know my favorite Christmas album of all time, I'd answer, without hesitation,
A Christmas Record
by the fine folks at
Ze
. Specifically the "Improved Special 1982 Edition," which added James White's "Christmas With Satan" to the track list.
Since 1996,
Festive!
has been fortunate enough to interview several key players in this masterpiece, including Chris Butler (author of the Waitresses' "Christmas Wrapping"),
Cristina
("Things Fall Apart"), and the aforementioned Mr. White (re-read the interview
here
). This year we set out sights on
Was (Not Was)
, and their sarcastic funk masterpiece "Christmas Time in the Motor City." Since the Was Bros are in the midst of promoting their
forthcoming best of collection
, gaining virtual access to David Was proved surprisingly easy, and he answered our mouth-breathing, rabid fan boy questions in timely fashion, with his inimitable crackpot wit.

FESTIVE!: What was the cultural climate like in Detroit ca. 1981? Seems like "Christmastime In the Motor City" might be more timely than ever right now. The lyrics seem perfectly in sync with our current recession and its impact on Detroit.
David Was: Detroit is, was, and ever has been the laboratory for urban dysfunction, even during the boom years. White flight left the central city hobbled, its schools undernourished, its wounds visible and heartbreaking. Christmas is supposed to be a time of bounty and cheerfulness, optimism and fellow-feeling. Setting these cherished ideals in such a hardscrabble and brutal town like Detroit was a half-brainer — the ironies were built-in. It may be all mistletoe and reindeer elsewhere, but in Motown it was missing persons and rainclouds. I love that city with all my heart and its unfortunate victims of industrialization and urban blight. It is an object lesson of how modern prosperity is good for the top tiers, fatal to those below.
What was your initial response when Michael Zilkha asked you to participate in a Christmas record? Did you harbor any particular feelings, pro or con, about Christmas music before then? How did those feelings influence what Was (Not Was) did on their Christmas song? Your final verdict on both a) your song and b) the Ze Christmas Record in general?
Being Jewish, more by culture than discipline, I had as little feeling for Xmas as I did for Chanukah, but the notion of doing a song for the season was so out of step with our ethos of cynicism and disgust with the status quo, it seemed like a delicious opportunity to write the Anti-Santa anthem. Between the mind-numbing commercialism and treacly sentiment that poisons the otherwise bracingly beautiful days of autumn and winter, there was plenty of internal revulsion to stoke the songwriting fires. I think the album in general still stands as the perfect antidote to the cookie-cutter Christmas collection.
How long did you spend creating the song? Did it come in a flash, or did you labor at length? (Are there other, aborted Was (Not Was) Christmas song sketchs in a notebook or on tape somewhere?) Who all was roped in to help record it?
I remember the songwriting going fairly quickly once I had the title, which appealed to me because of the triple-repetition of M-sounds (Christmas, Time, Motor). Sometimes the title is enough motivation to move forward and fill in the blanks. I don't think I ever wrote another Xmas song after this one, though I am always reminded to try when November rolls around. As for who helped to realize it, that's a better question for Don, who organizes the co-conspirators, but it was the usual Detroit crew — George Clinton's gang of sidemen, our singers, etc.
What's up with the B section of the song, with the spoken monologue and bird sounds? I love it, but I've always been a bit baffled as to where that narrator's voice fits into the overall picture painted by the A section. Were they conceived separately and then bolted together, or was it all part of one crazed vision?
Gosh, I guess we invented rap with that breakdown spoken section, eh? Grandmaster WHO?!? I do like that bit of gratuitous Spanish delivering bad news to Santa: "
Lo Siento
Gramps/ We'll give you grub/ but there's no food stamps for tramps!" Damn, that's some cold shit, there! Not sure how that came about, maybe it was just an extra bit of lyric we couldn't fit in otherwise and just decided to have it declaimed rather than sung... too much LSD-spiked eggnog to remember though!
You and Don also had a role in helping Cristina record her own Christmas (Not Christmas) classic, "Things Fall Apart." What was your role in making that record? And your impressions of Cristina? Your partner Don Was once told me "We didn't have girls like her in Detroit."
Cristina was the original counter-cultural diva, with the class, brains and breeding to walk the walk. I remember supplying lines and rhymes for her lyric in a hotel room overlooking the Detroit River. She belonged to Boss Zilkha so there was no funny business, just poetry skull sessions fueled by weed and champagne. Don was right when he said Detroit had no such girls — she was as much a product of Paris as she was of Manhattan, a modern-day Henry James character, kind of a morphinized Daisy Miller. She was as headstrong and brilliant as she was fragile and damaged. I have an enduring affection for her.
Did any of your other labels (Columbia, Ryko) ever try and coerce Was (Not Was) into doing anything special, musically or for promotional purposes, in observance of the Christmas holidays?
Still waiting for someone to ask us to defile Western Christendom with another seasonal ditty. Post 9/11, I suppose I would have to write something equally offensive to Muslims and Christians alike, something like "Osama's Christmas Wish List" or "Santa's Sleigh is Heading for the Towers." That having been said, here's a heap of good wishes to all the delusional types who follow any of the Abrahamic Trifecta. Me, I pray to Freddy Nietzsche of Freddy and the Dreamers, who said: "A casual stroll through the lunatic asylum shows that faith does not prove anything."
"Christmas Time in the Motor City" is available on both the
Ze Christmas Record Reloaded
and the Was (Not Was) collection
Out Come the Freaks
. The new Was (Not Was) best-of set,
Pick of the Litter (1980-2010)
will be in stores Feb. 23, 2010