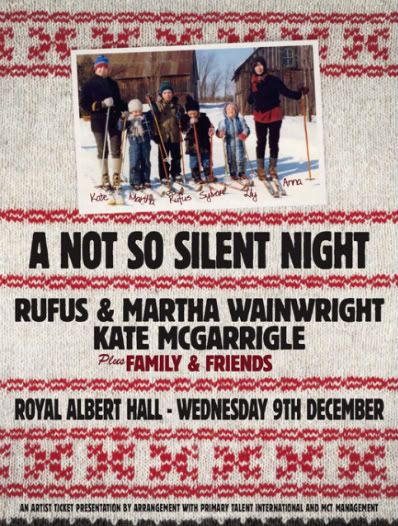 Last week, Kate McGarrigle and her children Rufus and Martha Wainwright hosted another one of their annual Christmas shows. This year "A Not So Silent Night" took place at the Royal Albert Hall in London, and featured cameos from Boy George, French & Saunders, Linda Thompson, and all sorts of other bad-ass family friends. The Guardian's review is
here
.
Speaking of family... issue #78 of
No Depression: The Bookazine (Whatever That Is)
centers around the theme "Family Style." I was asked to profile the extended Wainwright showbiz dynasty. But after accepting the assignment, and procrastinating longer than I care to admit, I discovered that
Vanity Fair
had written the be-all-and-end-all of features on the clan,
"Songs in the Key of Lacerating,"
not that long ago.
My only recourse? To focus on Christmas. The Roches, the McGarrigles, and the Wainwrights have all written, recorded and performed Christmas songs in various permutations and combinations over the decades, and I thought this might provide an odd window into their family dynamic. And it did. Miraculously, I got Martha Wainwright, Suzzy Roche, Lucy Wainwright Roche, Sloan Wainwright, and even cantankerous patriarch
Loudon Wainwright III
to talk on the record about the holidays.
You can read the whole sorted story by picking up a hard copy
here
. Meanwhile, please enjoy this little quote I
didn't
use, from my beloved Martha Wainwright, apropos of family celebrations before they started putting on their annual holiday concerts.
"Christmas for Rufus and I was set in one of the most idyllic looking places for Christmas in the world, which is in the Laurentian Mountains of Canada, up, up, up North from Montreal, in the home where my mother and her sisters were born. My mother has an expression—and I don't think you could print it—but she used to say, 'We're up to our cunts in snow.' And making a huge turkey and sitting around this living room fire. So we've always had this idyllic and fantastic Christmas, which is no doubt why we eventually made a [Christmas] record. That time of year has always been very pleasant, and not filled with anxiety, as it can be for other families."
Perhaps I'm being immature, but the idea of one of the revered McGarrigle Sisters swearing amuses me ever so. Then again, Kate also knit the background they've been using in the show posters for years, which only increases my already formidable admiration for her.