If you don't know who
the Fleshtones
are, you need to pick up a copy of
Sweat: The Story of the Fleshtones, America's Garage Band
as soon as you can. Pronto! Since their inception in 1976, this kick-ass combo from Queens has been diligently rocking fans all over the world—and deserve more credit than they sometimes receive for their pivotal role in the New York rock scene that spawned Blondie, the Ramones, et al. If you see copies of their early IRS albums,
Roman Gods
(1981) or
Hexbreaker!
(1983) in the used bins, don't hesitate to snap them up. Folks who grew up in the '80s will also remember frontman
Peter Zaremba
, he of the formidable forelock and dry wit, as the host of MTV staple "The Cutting Edge." As it turns out, Zaremba and company are as cuckoo for Christmas as the rest of us here at Festive!, and graciously agreed to sit down and rap for at length about their new Christmas collection,
Stocking Stuffer
—one of the best Yuletide releases in years, and in stores now—and lots more besides.
FESTIVE!: Are you ready to discuss the holidays for a few minutes?
Peter Zaremba: The truth is… it's always a good time to talk about the holidays!
Don't make me cry.
A few tears of joy? I like that idea. Just like when I'm watching Alastair Sim at the end of
Scrooge
. I always break down into tears then. So, yes… just let me toss a bucket of water into the tank for my turtle. She was eating – we feed her in a separate tank.
How old is your turtle?
She's about four. She's big.
Why a turtle? That's not the go-to choice for a pet.
Not at all. My wife, Marilla, got it for our little boy, who didn't really get into it too much. So we wound up being the main keepers and caregivers. She has survived some serious illnesses, and now has grown into this giant.
Disease? I think of turtles as being hearty and healthy.
When they are little, they are very susceptible to a lot of diseases. And people don't give them the proper diet, so they get all kinds of illnesses. But we
found out all that
, and took care of her, and now she's a healthy critter. Honestly, I can't wait to release her back into the wild where she can meet some of her own kind.
Did the young man ask for anything special this Christmas?
Oh yeah. He's eleven now, so he's totally into Wii and Guitar Hero. Who are those death metal guys everyone loves? Metallica. That's coming out [for Guitar Hero], so that's high on his list. Unfortunately, there's no Fleshtones Guitar Hero. Not yet. Let me throw this bucket of water in there, and then we can settle in.
[Burbling water sounds in background]
That's awesome – it's like there's a sound FX record on in the background.
Look out for that waterfall!
If I didn't know better, I'd worry there was some kind of monster slithering up behind you.
It could be many things, but honestly, it is just a bucketful of water for my turtle. So you're calling from the West Coast?
I am, from Seattle. When are you guys coming back here?
It has been a while, and we're due to come by. Maybe in the dismal winter. Keith and I were talking. We said, this time, let's fly into San Diego, and we'll go all the way from Tijuana to Vancouver, do the whole West Coast. Ten or eleven days. And in between, drive through the mountains. Go through Grant's Pass and all that. We haven't done that in a while.
And enjoy the trip, rather than rushing from show to show. If you gotta be away from home, have a good time.
Exactly. And we do have a good time. We just got back from Canada on Sunday. We rushed around, but we did have a good time.
Do you have any special plans for the Christmas show at the Bell House on Dec. 20?
Yes we do… but it's all secret surprises and secret guests. Who knows… maybe even… well, I don't want to say the big man is gonna be there. I don't want to get the kids too excited. And I believe we're going to do a live WFMU broadcast, too, and everyone can get that over the Internet.
Why a Christmas album—and more importantly, why now—from the Fleshtones?
I'll tell you why now: Nobody ever asked us before.
I assumed that IRS would've tried to convince you to cut at least one Christmas song, back in the day.
You'd think they would've. But they had their hands full with us, at that point. And I think Christmas albums was the least of their worries, as far as the Fleshtones were concerned. But nobody asked us until now. And, to tell you the truth, it's something I've always wanted to do. I've always dug this time of year, when they start playing a lot of Christmas music. Even a lot of the stuff that people would consider obvious novelty numbers, and things like that. What's that one,
the Italian donkey
? "Up and down the hills of Sicily…" Even stuff like that. One first listen, you go, "Aw, c'mon!" But it's bringing joy to some publisher's heart, somewhere. And isn't that a part of the Christmas spirit? Everyone's got to get a piece of the action.
Every year, Irving Berlin's daughters get another generous check.
And no royalty check is more deserved. While we were recording this record, someone reminded us that Der Bingle recorded "White Christmas" in early July as well.
So you cut this at the height of summer?
It was the heat wave of heat waves! It was the end of June, which, these days, ends up being the hottest time of year here. And on the sidewalks, it was well over 100 degrees. We were in the East Village, at Ludlow Street. And the streets just stunk, with old food and garbage and who knows what else. And we were down in a basement, happily recording away. We had no problem whatsoever getting into the spirit. Especially me. For weeks, songs we didn't even bother recording—like "White Christmas" and "The Christmas Song"—I was walking around singing all those for weeks, driving everybody crazy. "Could you please stop singing 'Rudolph, The Red-Nosed Reindeer?'"
We have a Christmas album to make!
Exactly. Not that I have to get into the spirit—I AM into the spirit. So we had no trouble at all.
It's a lifestyle. Did you decorate the studio?
We spoke of it. We were so busy, trying to get this done. As nice as Glen Dicker is, the budgets remain… modest. But, indeed, it is the spirit of this thing, and that thought that counts. Not the budget.
It's how heart-felt the spirit.
Very much so. We didn't decorate. We didn't have to. Nor did we have time. We were cranking this out, and enjoying every second of it.
Let's discuss the repertoire. You eschewed all the obvious chestnuts. The part of me that is a huge Christmas music geek things of "Run, Rudolph, Run" as a standard, but otherwise, there's nothing the ordinary Christmas shopper would recognize. I'm curious: What was the attraction to Rolf Harris' "Six White Boomers"?
We had told a lot of our friends that we were working on this record. And we asked a lot of people if they had any suggestions. And Dave Faulker of Hoodoo Gurus, Aussie that he is, said, "Mate, you've gotta listen to this song by
Rolf Harris
." So we listened to it… and we were appalled! And I immediately said, "We can do that." So we gave it the AC/DC treatment. And all the Australians we've played it for have been quite pleased.
Oh good. I know how protective they are of Rolf.
Well, he is a national icon. We didn't want to upset anyone. But we also don't want to just take these songs and fling them back out there, they way they've been heard hundreds of times before. We want to bring something new to it.
I appreciated the fact the songs offer a lot of appeal to listeners beyond the US borders, which I assume has something to do with how much The Fleshtones have toured.
We gave "Canadian Christmas" a test run in Ottawa, and they sang along. I thought they were going to rebel: "Okay, this is an obvious ploy." But obvious or not, they sang along.
If they'd not gotten into it, you could have thrown [bassist] Ken to them as a sacrificial lamb.
Exactly. "Here, he's the one that wrote it!" He's our official Canadian. Blame him. We wanted to get even more international, but the budget just didn't allow for it. I wanted to do "Feliz Navidad." Which, again, it's kind of obvious, but we could have given it a special treatment. And there is also a Bahamian carol, called "The Virgin Mary (Had A Baby Boy)," which is a very upbeat, calypso number. What else did I toy with? I definitely thought about a very heavy, blues-jazz version of "The Christmas Song." Getting down with it, but with a good rhythm. Not wistful, more like a slow dance, almost a grind. And one last thing I was thinking of was a swinging "Good King Wenceslas."
Well, now you have to make a follow-up Christmas EP.
Or another whole album. Next year!
Demand the budget you deserve.
I'm looking forward to doing another Christmas record. And so is the whole band. There's lots of good material. And we write this stuff, too.
I know. Ken wrote one of the songs, Keith wrote one, you composed several. What was in the inspiration behind "Christmas with Bazooka Joe"?
The inspiration was can be summed up in two words: Bazooka Joe. I've had a series of Bazooka Joe tunes, just being inspired as a kid by the comics. A few of my friends came up to me and said, "Hopefully this is the last in the series." Pshaw! Bazooka Joe may come back.
He's iconic. You can't banish him.
He's very iconic. If you have the finished CD, I did a nice gouache of Bazooka disguised as Santa. What's more fitting than Bazooka bringing gifts to his gang?
What about "I Still Believe in Christmas"?
That just popped into my head. When we first thought about doing this, I asked Keith: "Glen wants us to do a Christmas record… what do you think?" He thought about it for a second, and said, "Yeah… but I don't want to make fun of Christmas."
Oh heavens no.
And I said, "My thoughts exactly." It's okay to do "Don't Believe in Christmas" like the Sonics did, those are good. But some people said, "Why don't you do 'Father Christmas' by the Kinks?"
Because it's a mean-spirited song.
Exactly! It's curmudgeonly. If you're going to get unhappy, then be unhappy, but I refuse to be an enabler. C'mon, there is a lot of good here! That was my inspiration. That song came into my head very quickly. If I had to think about it, subconsciously the inspiration was a song called "We Need A Little Christmas," from
Mame
.
I have a killer version of that by the Golddiggers. Play your cards right, and I'll send you a mp3 of it.
Please do! Please. You do mean Dino's Golddiggers, right?
The one and only. Featuring the legendary Joey Heatherton.
That's right! Oh gosh. Just recently, towards the end of the summer, I was in Jamaica, working on a story. And I had dinner with Errol Flynn's widow,
Pat Wymore
. And she was loaded with stories about Joey and Dino. She had a small part in the original
Oceans Eleven
. And she, unlike some people, did not need to be prompted to speak about anything. I did not have to pry. And with each gin and tonic… well, it was an amazing evening. An evening I did not want to end.
I love those old school performers who don't edit their memories.
Oh no, she did not edit. Maybe she put a nice spin on some things, but she was very, very open.
You open the album with "Hooray for Santa Claus," from the original

Christmas On Mars

flick, Santa Claus Conquers the Martians. Who's the big fan of that one?
That was indeed Glen Dicker, of Yep Roc Records. That's how this whole project got started. He sent me a mp3, and said, "Do you think you guys can do anything with this?" So I listened, and, again, I was appalled. But I immediately said, "Of course!" We'll just give it the old Super Rock treatment, and we did. Afterward, Keith said, "Man, you were right about that tune. It sounds like the Bowery Boys singing it!"
Have you seen the film?
I haven't seen it since 1966. And it wasn't deliberate back then. I was going to see some Hammer horror film or something, and got to the local theater early, and caught the kids' matinee. And I thought it was pretty amazing.
It's still my favorite Pia Zadora film.
She started with a bang!
Fiddler on the Roof

and

Santa Claus Conquers the Martians

, all at such a tender age. She could have quit right then!
If I had a résumé like that, I'd sit on my laurels. So it was Glen who asked us to do that song. And once I was so enthusiastic about that, he said, "How about doing a whole Christmas record."
I'm just startled. You seem so passionate about the season, yet you've never done a Christmas fan club 7-inch or cassette before now.
Time tends to get away from us. Those Beatles Christmas fan club records are wonderful. It's a great tradition. And maybe that's an idea we'll get to. Because, let's face it, the Fleshtones aren't going anywhere.
I should hope not. The past couple years seem to have gone well, and next year seems poised to be a banner one for you.
I think so. I'm ready to go back into the studio, to do yet another record. And you've put the idea in my head to do another Christmas record, too.
Especially if they're budgeting studio time for you. You've done four albums for Yep Roc already. Just ask 'em to beef up the next budget a little bit, and shave off enough to make a second Christmas album, too.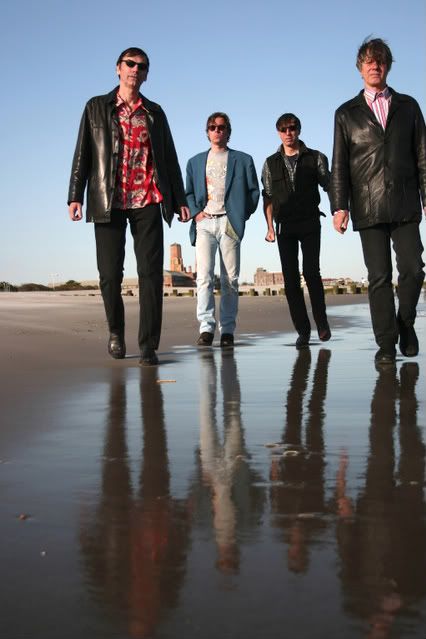 So Kurt, what's some of your favorite Christmas stuff?
I tend to be picky. I like less-familiar fare. Being able to turn John Waters on to "A Natural Santa" was an honor. I love "Things Fall Apart" by Cristina, who was married to Michael Zilkha of ZE Records.
An old friend of mine! I used to know Michael well. He didn't know what to do with the Fleshtones in the '70s…
Oh that's right, he almost signed you guys.
He did some demos with us, with Chris Stamey. What I remember about Michael is, I'd go over to his office, and he'd say, "Let's go have milkshakes." We always used to go out for milkshakes.
I think ZE's

A Christmas Record

is right up there with the Phil Spector Christmas album. Even that song by Davitt Sigerson, "It's A Big Country," is beautiful—and I couldn't name another song by him. And you also gets James White and Suicide, just to balance things out. I love Little Annie's "All I Want for Christmas," from her recent album

Good Things Happen to Bad Pianos

. There's so much great music people don't know about.
I agree.
Did you ever ask for a present you didn't receive, and pull a Dawn Davenport and knock over the Christmas tree?
There were a few Christmases where I recall being rather petulant, and being dealt with appropriately. I remember an old photo of me, posing by the tree, and just minutes before that was taken, I was crying and saying, "I'm going to make sure that when people see this picture, they know I was unhappy." But I had a good Christmas anyway. And once you have a young one around, that really helps revive things. Now I have a good excuse to watch
Laurel and Hardy's

The March of the Wooden Soldiers
every year.
And

The Pee-Wee Herman Christmas Special

!
And… what's that one with Michael Stipe?
Olive, The Other Reindeer
. And I don't know if my kid is ready for it yet, but I might dig out the Mexican film,
Santa Claus
. The '50s color fantasy special beloved by millions.
And when he gets older, you can trot out

Christmas Evil

and

Black Christmas

. There's so much to share as a family. Do you guys have any holiday traditions around the house? Are there set rituals avec Chez Zaremba?
Yes, we do. We usually have a big pre-Christmas party, an Advent or holiday party. We have our tree, which we keep up until the 6th of January. And we celebrate with
King Cake
when we take it down. We're serious about Christmas.
Do you do a lot of baking?
Oh God, yes. Cookies galore! All different kinds. Marilla makes Italian-style biscuits, chocolate biscotti. And I make different kinds of West Indian-style cookies, which you're supposed to make with lard – but we don't go that far.
It's a bit much to slaughter a hog and render its fat, just to bake some cookies.
Then again, if they're going to go anyway, they might as well go into a cookie.
What the hell is going on with the Fleshtones' back catalog? You'd think someone at Universal—or whoever controls the IRS material—would get their act together and put out a nice compilation or anthology.
They are very reticent. And it's really hurt us. All of this history has been erased. And younger people, who do go out and buy music, can't get our stuff. There's this huge gap.
With the biography in stores, and the documentary coming out next year, you'd think they'd at least have the common sense to cash in.
Or at least try. Considering that everyone else gets a box set. All I can say is, tell your readers to annoy them.
God, they could do such a nice anthology, with the three albums and the EP and the "American Beat '84" single.
Believe me, you are not the first person to bring it up.
Have you watched the new Fleshtones: Live At Hurrah DVD yet? How was it? Terrifying? Delightful?
A little bit of both! A lot of it was surprising. "Oh, did we do that?" We're doing a set with two drummers? I don't remember that. On a
Bert Kampfaert
song, no less.
It's not like you didn't play millions of shows over the last twenty-plus years. You could be forgiven for forgetting a few of them.
In those days, the shows were very unique. I'm sure that was the only time we played three or four of those songs. I don't recall doing that kind of line-up more than once or twice. I'm really happy when these things come out, because then people get more of the history. And they realize what we were doing, and who we are.
And have been doing for, nigh on 30 years.
32. And coming up on 33.
Are you excited about the documentary?
Yeah. I saw a rough cut. There is a lot that I wish he could get hold of, to put in there. It could be one insane film. But it's good. And people will get a better idea of who we are. That's always been a sore spot with me. A lot of people pass us over, or just don't know about us…
Or think you came from Los Angeles.
Exactly. It's the same thing with the IRS Records not being available. That stuff bothers me. But little by little, this will get corrected—for the good of mankind.
You used to be relentless touring machines. Did you ever spend a Christmas on the road?
Not that I recall. That was off-limits. Who wants to see a band on Christmas?
What about "The Cutting Edge"? Did they bully you into a holiday show?
I think they did. I recall one with Christmas lights up, where I have a Santa hat on. That's another thing that you'd imagine a box set of would be handy. And imagine what those outtakes were like! Amazing stuff. For every song or two we used, we shot five or six. And bands that never made the cut, that we filmed and didn't use. There is so much incredible material like that.
Besides making a new record in 2009, is there anything else coming up you're especially excited about?
Hopefully we'll be coming out to the West Coast. And maybe another Christmas record. And as far as this Christmas record goes, I'm very proud that we were able to do a decent version of "You're All I Want For Christmas." Not to say that, in any way, it approaches the beauty of Brook Benton, but we did a good job.
It is so hard when you're confronted with an original you love. Do I dare besmirch this treasure?
We take it to more of a street corner, pre-Beatles rock kind of place. The same thing we did with "In Midnight's Silence," which is really a carol I've known since I was a kid. Again, I figured, we could do something international, and do it in English.
Which church service did your family go to?
Midnight mass. And then, when we were little, that's when the relatives would come in and sneak in the gifts, after midnight mass. That's when the tree went up, too, unbeknownst to us.
Were you ever in a nativity pageant?
I always missed out. We did a thing where they alternated, between the 8th graders staging a real pageant, and the 1st graders singing "Rudolph" and that stuff. And they went back and forth. And somehow, I wound up being in neither at the right time. So I missed my chance to be a shepherd.
Well you have this big show on Dec. 20.
And this time, I would demand a major role. I want a big talking part.
You are not putting me in the corner as Joseph.
The silent partner? No. I want to be a flamboyant king.